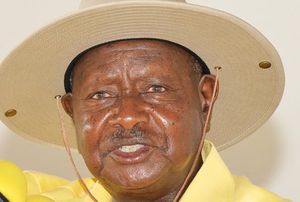 As we promised this article is the first one we publish in english to tell our readers that there will be no more discrimination between english and french . Many of our brothers and sisters were asking us why we could not publish articles and comments in english . Today we are starting it for ever and we hope many of you will send us your contributions and analysis about Africa and its people and we will be more than happy to publish them . HAPPY NEW YEAR TO ALL OF YOU BRTOTHERS AND SISTERS READERS AND MAY GOD BLESS OUR CONTINENT . Charles Malone for AFRIKANEWS/
Kampala. Government will start funding churches and other religious faiths to bolster the evangelical work they are doing which supplements the efforts of the state.
"In the coming years as our Budget improves, we shall give support to churches and faiths. This is because they have helped the state to police the minds of its people instead of just depending on policing of the body," President Museveni told worshippers at the 14th Passover festival to usher in the New Year at Namboole stadium on the eve of 2016, on Thursday night.
He said arresting criminals is an expensive venture that does not heal their minds.
Mr Museveni, who was prayed for by the Born again faith in Uganda, asked believers to emulate Jesus Christ and be vanguards of His work because the Bible teaches people to work hard to get food.
Describing himself as a born-again faithful in the 1960s, Mr Museveni said he disagreed with what he called misinterpretation of the Bible verses to discourage hard work.
"During creation, God said man shall have dominion over all creatures. I don't know how you (pastors) handle this issue, but Christians must be vanguards of hard work. Christians must be the example of hard work because the Bible says, let your light so shine before men that they see the good deed and praise your Father in heaven," Mr Museveni recited.
He said he had come from various other worship places and commended born again Churches for the overnight prayers.
"During this campaign period, I have learnt that development and wealth are not uniform. Do not worship property but don't also worship poverty. Therefore, I am happy we have managed to streamline the issues of born-again faiths to give them full rights as other churches like wedding of couples," the President said.
Pastor Joseph Serwadda, the leader of the born again faiths in Uganda, commended Mr Museveni for supporting recognition of their churches.
"You have made the church ministry now more enjoyable. We also thank you for standing firm against homosexuality when you took a bold step of signing the bill into law, which was a back-breaker of the enemy. You spoke with strength to save the future generation. Although the courts gave their verdict, it was merely on technicalities," said Dr Serwadda, accusing politicians of perpetrating the vice.
source;http://www.monitor.co.ug/SpecialReports/Elections/Museven
ekasozi@ug.nationmedia.com