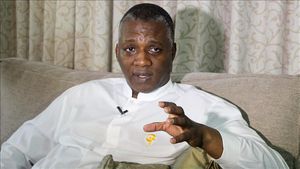 Pascal Bida Koyagbele, a recent Central African Republic presidential election candidate
By Hassan Isilow
JOHANNESBURG
An opposition politician in the Central African Republic (CAR) has accused France of allegedly arming militia groups in the country, so that Paris can take advantage and control the country's natural resources.
"France used the Seleka rebels to remove President Francois Bozize because he refused to accept their conditions of extracting oil in the country," Pascal Bida Koyagbele, a recent presidential election candidate, told Anadolu Agency in an exclusive interview in Johannesburg.
He said oil reserves were discovered in CAR in the late 2000's and Bozize asked a Chinese company to extract the resource after he failed to agree on a deal with France.
The French government has strongly denied his claims.
Koyagbele claims France wanted a bigger share in the oil deal compared to what CAR would get as the owner of the resource.
"The French came to see me and told me that if one day I want to be president of CAR I must accept their conditions for extracting oil, which would be 90 percent for France and 10 percent for CAR," Koyagbele claimed.
The Central African Republic is rich in diamonds, oil, gold, uranium and timber among other natural resources. But due to many years of conflict and weak leadership the country remains one of the least developed in the world.
Koyagbele claims that after Bozize declined the deal, France allegedly armed the predominantly Muslim Seleka rebels from the north to remove Bozize – a Christian – in a 2013 coup.
Michel Djotodia was then installed, becoming the country's first Muslim president since its independence from France in 1960.
CAR has a population of 4.6 million people, 50 percent of whom are Christian, 15 percent Muslim and 35 percent adhere to indigenous beliefs.
Koyagbele said Muslims and Christians had lived in harmony for many years until the actions of the French triggered tensions between religions groups.
According to reports, when the Seleka rebels assumed power they started attacking Christian communities, looting their homes and businesses and committing murders.
This created anger among Christians, leading to the creation of a militia group called the anti-Balaka, who attacked Muslim communities in reprisal.
The violence forced tens of thousands of people were forced to flee their homes and live in camps across the country divided along religious lines.
In 2014, Michel Djotodia was forced to step down due to international pressure. His exit led to increased attacks on Muslims and destruction of several mosques in the country.
Thousands of Muslims fled to neighboring Chad and Cameroon. Hundreds of people from both religious groups have died since the conflict begun in 2013.
France deployed hundreds of troops in Dec. 2013 in a bid to end the sectarian bloodletting in its former colony, but some of its soldiers were recently implicated in sexual abuse cases against children in CAR.
Koyagbele suggested that the French and UN troops should immediately leave the country because they have now become a danger to the population they were supposed to protect.
Former CAR security minister General Mahmat Nouradine Adam previously accused the French of arming the anti-Balaka Christian militia group.
"The French are now siding with the anti-Balaka. They're providing them with arms, food, medicine and uniforms," he said in an interview with Anadolu Agency in the CAR capital Bangui in Dec. 2013.
Anadolu Agency approached the French defense ministry for a comment but had not received a reply by the time of filing this report.
However, France has always denied taking sides during peacekeeping missions in its former colonies on the continent.
The French foreign minister denied the claims.
"I can confirm to you that France has not been arming militia groups in CAR or creating sectarian violence between communities," Romain Vuillaume, an official in the French foreign ministry, told Anadolu Agency this week.
Vuillaume said France had been supporting the Central African Republic in its transition period and not creating any divisions in the country.
"As our partners in the international community, we have been supporting the Central African authorities in the transition, especially for organizing the general elections," he said.
Last week, CAR held a re-run of in its presidential election with former prime minister Faustin Touadera being elected.
Many experts believe that the election was an important step in restoring peace and stability to the country.
Anadolu Agency website contains only a portion of the news stories offered to subscribers in the AA News Broadcasting System (HAS), and in summarized form. Please contact us for subscription options.