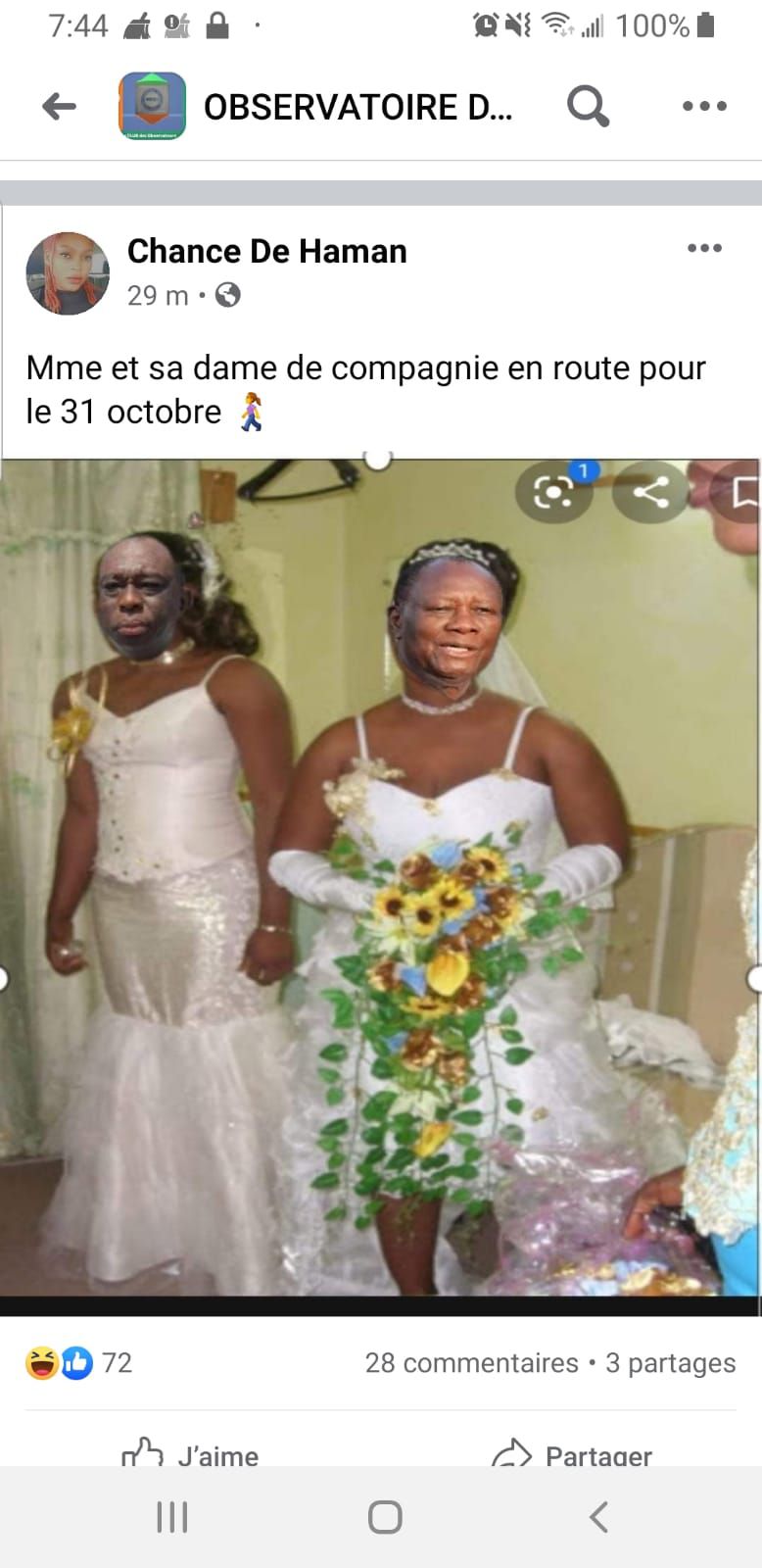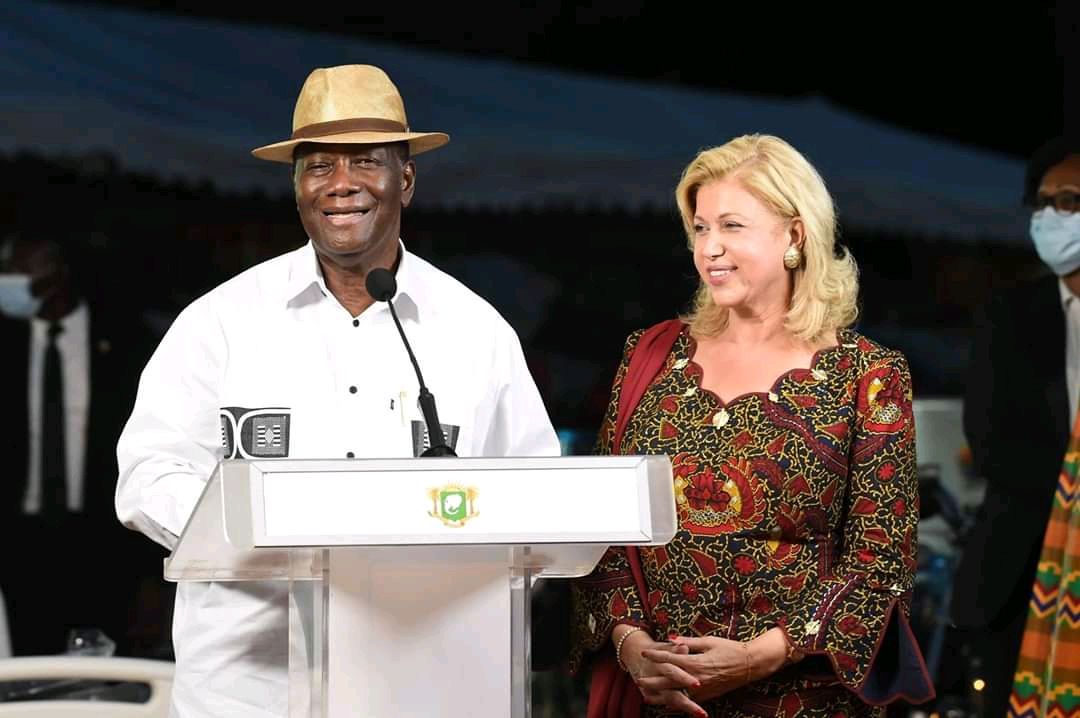 Dictator Ouattara Dramane, the western pupet, is not allowed by the Ivorian constitution to stand for a third term.
IVORY COAST :
CIVIL DISOBEDIENCE LAUNCHED BY THE OPPOSITION IS AN OBLIGATION OF LEGITIMATE DEFENSE FOR THE IVORIAN PEOPLE BECAUSE DICTATOR OUATTARA HAS BECOME A CONDENSED OF FLAGRANT OR PROVEN ILLEGALITIES WHICH SERIOUSLY THREATEN OUR PHYSICAL OR MORAL INTEGRITY.
Contributed by Toure Zeguen
Ouattara Alassane Dramane who today allows himself to make fun of the Ivorian people, as usual, but above all of the international community which has nevertheless imposed it on our country (since the electoral coup d'etat with the hand orchestrated bomb de maître by Nicolas Sarkozy on April 11, 2011) is now struck by legal and legitimate nullities since he began "his electoral campaign" in Bouaké in this fraudulent monologue that the tiny Kouakou Konan Bertin will never be able to legitimize or legalize.
Despite our desire to concede to him several intolerable and inexplicable congenital pretensions, lies and incongruents, Alassane OUATTARA has never been able to reassure himself, even less the Ivorians who of the late Nabintou Ouattara or the late Nabintou Cissé is his biological and or legal genetrice.
Yet the origins in Burkina Faso, yet land of upright men is no longer in doubt. Sindou being spiritually and technically admitted by the collective conscience because of the last home of his progenitor (whose passage to Dimbokro left an indelible Voltaic DNA) who will never be able to emancipate himself from the land of the late President and worthy Captain Thomas Sankara .
Neither his uncle, our dean Abou Cissé, let alone the founding president of Côte d'Ivoire
the late Félix Houphouët Boigny, or the dismal judge Zoro Bi Ballo and his canvasser Cissé Bacongo, who was a law professor, failed to grant Ouattara any ivoirite that the alleged son of Kong or Gbeleban continues to seek.
If from his Bac in Upper Volta to university in the United States through BECEAO to the IMF, Alassane OUATTARA has always left indelible voltaic traces, the average Ivorian retains that only chronic violence made up of beatings. 'states and rebellion (the native Ivorians Ibrahim Coulibaly aka IB, Soro Guillaume, Amon Tanoh are among the most prestigious pillars today paid in monkey money) have served as a avenue to obtain good, generous and often overly democratic Laurent Gbagbo an Ivorian nationality and an exceptional candidacy for the presidential election of 2010 thanks to the no less mafia international community which used Thabo Mbeki the former South African president as mediator.
Since his appearance in Ivorian politics in 1989 under Houphouët Boigny on whom he was already imposed by his master designers devastating structural adjustment plans for Africa, until the year 2002, the start of his rebellion, the joker s 'is passed off in vain as a victim from the Ivorian and Muslim north, it is not the young Christian Kigbafori Guillaume, nor the late Djeni Kobinan (founder of the RDR his partil) or the real son of Odienne late Mamadou Ben Soumahoro who will have was able to give Ado what he never was and can never be again today. Especially since Minister Amon Tanoh has just undressed, legally diplomatically, elegantly and firmly in front of the whole world this October 10, 2020 at the Félix Houphouët Boigny stadium. A nudity that Cissé Bacongo has awkwardly transformed into humiliating pornography for Ado, by his story of a trip to Dimbokro to fraudulently and without dignity bring back a certificate of nationality whose illegality jumps out in the eyes of free and clean consciences.
OUATTARA THE BLOOD LIAR
This Ado or AO, it is depending, who has a sad war toll of more than 100,000 Ivorian victims (according to the testimony of Alpha Blondy, our world star of reggae on national television) or more than 30,000 victims, (according to an eminent Ivorian professor of history and former minister, ambassador in front of international cameras) is in truth the most macabre and bloodthirsty character that Côte d'Ivoire has never known from the times of French colonization until this year 2020.
His hatred for the children of Côte d'Ivoire and his scandalous management in violation of all rules and ethics of the goods and wealth of our country suffice to prove that Ouattara is on a mission against our country for illegitimate, illegal and bloodthirsty interests which have ended up convincing our people to unite us now to survive and snatch our homeland from the bloody hands of this man without faith or law and his clan, if not his family foreign legion.
NO MORE NEGOTIATIONS WITH THIS GOVERNMENT WITHOUT FAITH OR LAW
Due to the fact that he was able to launch an electoral campaign while his candidacy for a third term, his so-called independent Electoral Commission, CEI, his electoral list are all struck with ILLEGALITY, today Alassane Dramane Ouattara, now outlawed , forces Ivorians in self-defense to fight against all odds at the cost of our lives to restore our human dignity and our nascent democracy for inescapable sovereignty and prosperity.
OUATTARA who insults and mocks the international community which imposed it on us, the people of Côte d'Ivoire, can never again be considered as head of state or president worthy of any political dialogue.
It is in this that the current Civil Disobedience is imposed on us daughters and sons of this martyred country on the edge of the abyss.
OUATTARA ALASSANE has ceased to be legal and legitimate since the start of his presidential campaign without adversary and without legality.
Our total restoration is an obligation for our people (all generations combined) and especially our various elites who must assume without any distinction our collective or individual errors, distant and present.
Only fools don't change. Yet the Ivorian people are not fools like Alassane OUATTARA.
Victory or death because in the land of our ancestors no fraud should ever prosper now that Henry Konan Bedie, Laurent Gbagbo, Affi Nguessan, Soro Guillaume, Amon Tanoh, Mamadou Koulibaly, MabriToikeuse, Danielle BONI CLAVERIE and all the others are United in line of battle.
Let us stand together and pray in determination through actions of pride,
Let's go together.
IVOIRIANS from here and elsewhere
Ivorians in the country or in the Diaspora in exile or in forced emigration
IVOIRIANS in prison or hostage
Together forward for the definitive liberation of our country against the diabolical and decadent imposture
Together forward for victory for the future generations who hope from us
Our victory will begin after the death of this bloodthirsty and Ivorophobic regime of Ouattara Dramane.
Thank you
By Toure Moussa Zeguen
Ivorian political exile
Pan-Africanist.