Find here the full interview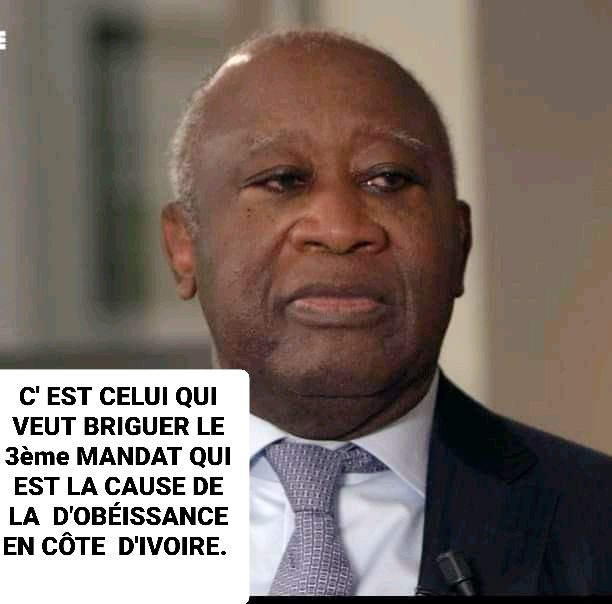 TV5: Due to the rejection of his candidacy, Laurent GBAGBO will be the great absent from the presidential election of October 31, 2020 in Cote d'Ivoire. Acquitted since January 15, 2019, he lives in Brussels pending a hypothetical return conditional by the issuance of a passport. From the Belgian capital, he has been following the news of his country with particular interest for several months.
TV5: Good morning Mr. President.
GBAGBO Laurent: Good morning madam.
TV5: And thank you for granting this interview to TV5 monde. How have you been since you were released?
GBAGBO Laurent: I'm doing better. We are always better off when we are outside the prisons than when we are inside. So I am doing well.
TV5: Since January 15, 2019, date of your acquittal, you have been silent. For what reason (s) did you agree to speak today?
GBAGBO Laurent: You know since my arrest in April 2011, I have not spoken, except for during the questioning session before the International Criminal Court. And when I was acquitted, I was waiting to be in my country before speaking. I wanted to wait until i was in my country, Cote d'Ivoire before speaking. This is why since then I did not speak. But today, the date of October 31 is approaching; I see that the quarrels may take us into a chasm. And as a former President of the Republic, as a former prisoner of the ICC, a former famous politician, if I keep silent it would not be responsible from of me. So I decided to express myself to give my point of view on what is happening at the moment in Cote d'Ivoire. And give my direction, the one that seems good to me.
TV5: For the Presidential election of October 31, your supporters have submitted your candidacy which was rejected. Were you surprised by the rejection of your application because you did not meet all the conditions?
GBAGBO Laurent: We were 44 candidates. 40 applications were rejected. So ... I find that a bit childish. I think that in a country, those who want to contest elections must be free to do so. We must not set obstacles to prevent others. I don't see politics that way.
TV5: Do you think that certain candidates have been purposely excluded from the presidential election?
GBAGBO Laurent: Of course! Of course! But hey, that's why I'm speaking today.
TV5: Since the announcement of the candidacy of Alasane Ouattara for the Presidential election of
October 31, to run for a third term, Côte d'Ivoire has experienced a pre-election crisis, which has already claimed several victims in Abidjan and in several towns of the country, do you understand the anger of those opposed to the third term?
GBAGBO Laurent: Yes! Yes! I understand it and share their sentiment. I think that one of the political problems in Africa is that we write Laws without believing in them. It is written in the constitution that the presidential terms are limited to two (02). Yet we hear of an attempt of a third term? We must respect the Laws we write. We have to respect what we word. From the moment when in a society, the laws and the constitution which is the supreme law...
TV5: It is said to be the fundamental law.
GBAGBO Laurent: ... it is the fundamental law. The laws which govern the relations between the citizens, say one thing, it is necessary that one conforms to it. And it is by complying with them that society is effectively regulated. If we write one thing and do another, it leads us to what we are witnessing in Côte d'Ivoire today.
TV5: Are you concerned about the tension in Côte d'Ivoire since July?
GBAGBO Laurent: It worries me absolutely. And I would like to say that we have a remedy for this. The remedy is discussion. People need to sit down and talk.
TV5: When you say "people sit down" who do you refer to? Alassane Ouattara, Henry Konan Bédié, SORO Guillaume.
GBAGBO Laurent: To politicians in general. I think of these three. But the political field has widened since. The political field has widened. But since Houphouët was president, because I was the only one to be a candidate against Houphouët Boigny, I was the only one in 1990, but I kept repeating: "let's sit down and discuss". With discussion, negotiation we solve a lot of problems.
TV5: But Mr. President, do the three of you not have some responsibility? For 30 years you have crystallized the Ivorian political scene through alliances done and undone. Hasn't the time come today for all 3 of you to step aside and hand over to a new generation?
GBAGBO Laurent: We don't solve political problems that way. It is undemocratic, moreover, to give in, to settle ... I often hear it said, these three must leave, they have to leave. But how about de GAULLE, how long did he dominate the political scene en France? He stayed on from 1940 to 1969. His departure from the Élysée only came after the defeat of the referendum he had initiated. François Mitterrand, how long did he remain in the political arena?
TV5: But comparison may not be right. The situation in Côte d'Ivoire is different, and you know it. Since 1999 date of the first coup, all three of you dominate the political scene. And today what we hear is that the youth are saying that you must hand over to a new generation.
GBAGBO Laurent: Young people say nothing at all (laughs). It is the others who speak for our youth. But I wouldn't want to focus the discussion on this topic. Because, well, I spent a decade in jail and life went on. So life can go on without us. But to pose the problem in these terms is still to deceive the Ivorians.
By telling them, if these three go away, all the problems are solved. Yet that can't be the case, no!
TV5: Maybe not all the problems, but a lot of the problems. What do you propose to renew the lines of dialogue between Alasane Ouattara and the main opposition leaders of which you are part?
GBAGBO Laurent: It needs self-education. People need to understand that in a democracy we give ourselves rules. We don't agree most of the time. In democracy, first of all, one thing we realize is that we do not agree. It is the first thing on which democracy is founded. We don't agree. But we must live together in a country.
TV5: On good terms.
GBAGBO Laurent: Yes, we must live in harmony. We have to give ourselves rules! We have to give ourselves rules! And once we have given ourselves rules, we must respect them. That's it! They must be respected! If we can't respect or abide by the provision of the two terms, it should not be written down in the constitution. At the time of Houphouet Boigny, there was no limit on terms of office.
TV5: It was the single party system too.
GBAGBO Laurent: It was the single party system. Yes! But there was no term limit. When there is no term limit we can expect everything. Limitation of terms of office is not compulsory. But I support it. And once you have set limited terms in the constitution, you have to respect that limitation.
TV5: Faced with what it calls the drift of power, the Ivorian opposition is united. And they called for civil disobedience. A slogan that Alassane Ouattara does not seem to hear since it did not make him back down. And besides his supporters in the RHDP say on October 31, it will be a knockout in the first round. What can we expect the day after October 31?
GBAGBO Laurent: Disaster! What awaits us is a disaster, and that is why I am speaking. So that people know that I spoke. So that people know that I do not agree to head to disaster with fists and legs tied. So that people know that I said something could be done. We must talk!
TV5: Mr. President, this interview is drawing to a close, it's been nine years since Ivorians saw or heard you, what do you want to tell them on the eve of this crucial date of October 31?
GBAGBO Laurent: Talk! Negotiate! Talk together!
TV5: Is there still time to do it?
GBAGBO Laurent: There is always time to talk. There is always time to do it! There is always time to speak! I would like to tell the Ivorians that in this fight which is being waged today around the third term, I, Laurent GBAGBO, a former President and former prisoner of the ICC, I am resolutely on the side of the opposition. I say, given my experience, we have to sit down and talk!
TV5: Thank you.
Translation by
O. SESSEGNON