#AFRICA TODAY AND TOMORROW

MESSAGE OF MILITANT AND MOBILIZING GREETINGS TO ALL GOR AND PANAFRICANISTS WHO ARE THE UNCONDITIONAL SUPPORTERS OF THE AFRICAN LEADER LAURENT GBAGBO!!!
Dear brothers and sisters from Africa,
Our liberation struggle against the old and devastating world order as human beings and especially as Africans did not start today and will not end today.
But in this 21st century, following all our ancestors and predecessors, Laurent Gbagbo is the last African leader who has and still continues to make consciences vibrate positively and make the African and Black man shine in his quest for freedom, dignity and Sovereignty.
After his incredible, historic, universal victory at the ICC, Laurent Gbagbo became a historical, legal and political exception that broke the international imperialist establishment in its drive to muzzle the African people.
It is Laurent Gbagbo who has most exposed and exposed by his temerity and loyalty, to his people the lies, cynicism and barbarism of the decadent order that oppresses us all.
With Laurent Gbagbo the African people have become more aware and courageous to come to the conclusion that Our Victory is Possible as long as we are determined and focused on the Essential, our main contradiction of the Pan-Africanist vision: UNITE AND LIBERATE AFRICA!
Today Our Leader Guide Laurent Gbagbo gathers in him all the hope of the African fight of Modibo Keita, SEKOU Touré, Kwame Nkrumah, Thomas Sankara, Nelson Mandela, Patrice Lumumba, Barthélémy Boganda, MUHAMAR Kadhafi, all our African heroes of yesterday to today.
At this crucial stage of our historic march towards liberation and social justice, we are on the right track because all the clouds of mystification, slavery and predatory barbarism of the western or international carnivores are torn and exposed.

Bravo to you Ivorian, African, and Black Diaspora fighters who have always understood the meaning and urgency of our union and unfailing solidarity around our leaders for our ideal against anarchy, ideological unconsciousness and lack of lucidity in this interminable war against the enemies of Africa and the human race.
Bravo to all of you who have understood that the hour is serious since the acquittal, the total liberation of our Guide, President Laurent Gbagbo, because all our predatory executioners who have always dreamed of the total annihilation of our Leader have failed miserably in their low-level jobs.
Today they prepare their plots of underhanded revanchists, racist criminals slavers of assassinations against him, in connection with the known and disguised henchmen of Africa to eliminate him as Thomas Sankara, Kabila Father, MUHAMAR KADHAFI.
All in Battle Order for our Liberation.
Today, GBAGBO LAURENT is more than a Head of State or a President.
Gbagbo is now a Major Spirit for all Africans.
He concentrates in him the hope of an entire African continent and an entire African race of victims without any distinction.
Around Gbagbo Laurent and with him ,
Let us remain mobilized as Soldiers as our Guide is currently.
Let us remain ready to respond spontaneously to all attacks against him, all future challenges without petty calculations and fear.
Let us remain on maximum alert because
It is a question of each one of us, of the survival of the black race, of Africa and particularly of the Ivory Coast under the murderous claws of the miserable carnivorous France without faith nor law.
Let's go forward together by raking wide and on the offensive.
Together Always GOR
Together for Victory
Together for Africa.
I thank you and may God bless us all.
Your servant Touré Nehemiah Zeguen
In Africa kanewsgroup
Email afrikanewsgrouptv@gmail.com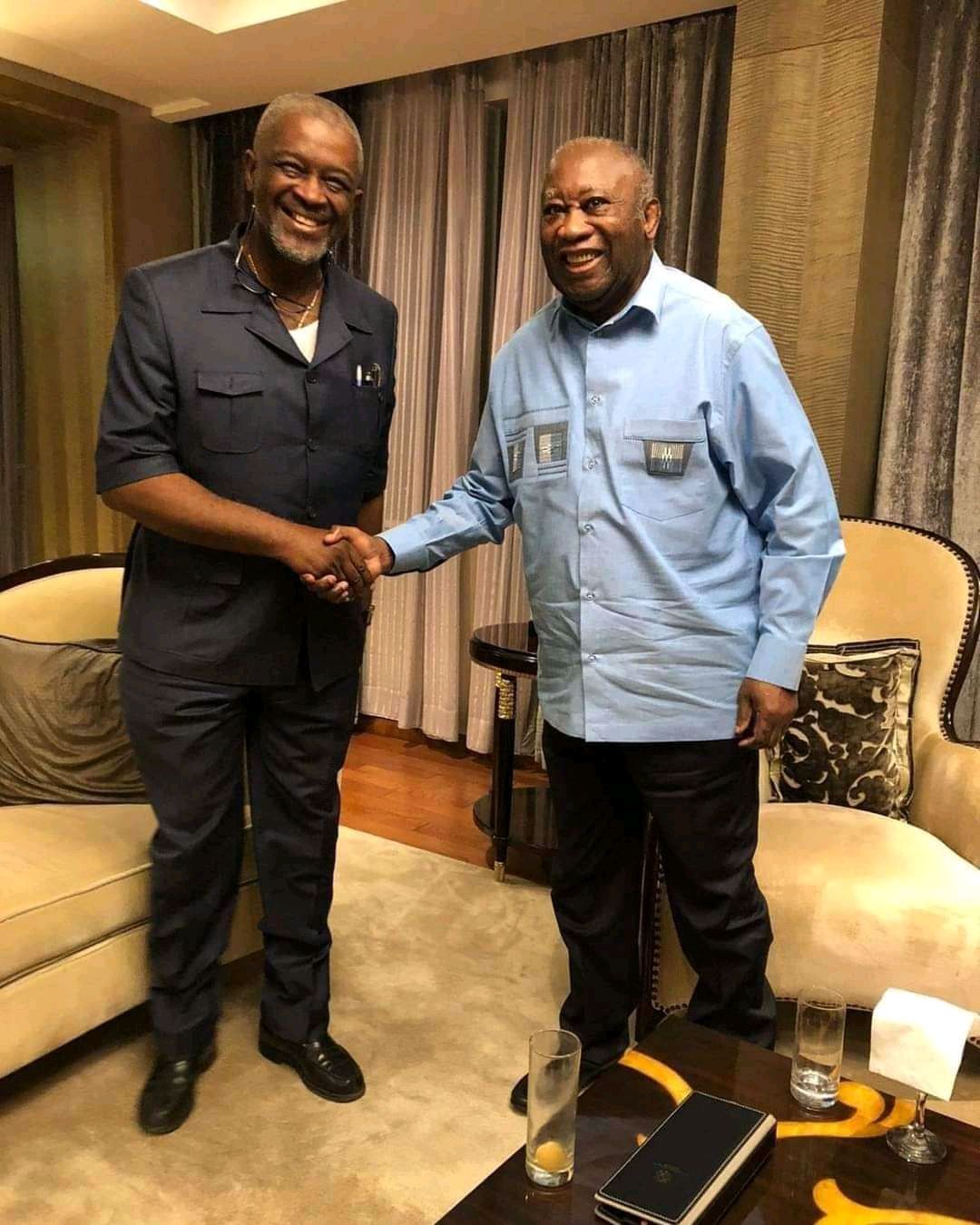 Laurent Gbagbo and the son of the late Patrice Lumumba former Prime minister of DRC
Brother Touré Zeguen a Panafrican leader from Ivory Coast in exile is a longtime supporter of président Laurent Gbagbo