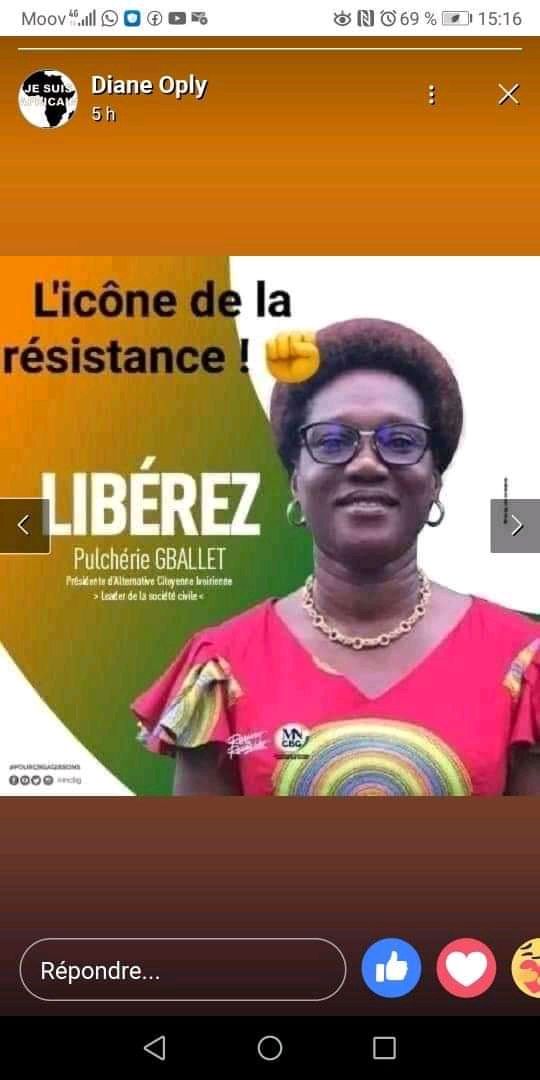 PULCHERIE EDITH GBALET, jailed in ivory coast for her struggle for democracy and réconciliation by Alassane OUATTARA's dictatorship
COMMUNIQUÉ NUMBER 19 OF THE INTERNATIONAL COALITION AGAINST CORONAVIRUS AND OTHER PANDEMICS FOR AFRICAN DEVELOPMENT
CALL OF THE CICC FOR THE UNCONDITIONAL RELEASE AND THE IMMEDIATE REINTEGRATION TO HER POST IN BNETD OF COMRADE PULCHERIA EDITH GBALET, 2ND VICE-PRESIDENT OF THE CICC IN CHARGE OF PLANNING AND PROJECTS
Facts
1 / Our comrade Pulchérie Edith Gbalet, leader of Ivorian civil society was unjustly arrested almost two months ago by the dictatorial regime of Alassane Dramane Ouattara in Côte d'Ivoire for his general mobilization actions for reconciliation, peace and democracy in Côte d'Ivoire.
2 / Since her detention in the worst conditions, she was declared positive for covid19.
3 / Today, following pressure from the autocratic and inhuman RHDP-rdr regime, she has just been illegally fired from her job at BNETD, a state structure where she occupies a managerial position as a sociologist.
4 / Since the announcement of his candidacy for the presidential election in Côte d'Ivoire made by President Alassane Dramane Ouattara, for a third consecutive term, in violation of the constitution in force, Ivorians have taken to the streets en masse for express their discontent and firm opposition to this flagrant violation of the country's basic law.
5 / In reaction to the popular mobilization, the minority power opposed the state terror which has today left more than 30 dead to date, and dozens of political detainees (including those of the electoral post crisis of 2011) as well as serious injuries across the country following the barbarity of the police by Sieur Alassane Dramane who has now lost all credibility and local and external support.
Our analysis
The International Coalition Against the Coronavirus and other Pandemics for African Development is indignant at the vertiginous rise in violations of individual and collective rights in Côte d'Ivoire which is manifested by police killings against civilians with bare hands, barbarities intolerable, untimely imprisonments and almost daily violations of the Ivorian constitution.
Since then the unpopular Ouattara regime has refused all demands for genuine political negotiations with the significant opposition and civil society and thus continues to plunge down the devastating path of savage and unacceptable violence in a society that is nevertheless civilized.
Our Urgent Appeal
1 Our Second Vice President of the CICC-AD, Pulchérie Edith Gbalet, is the victim of an unspeakable and intolerable injustice. This is why, without delay, we invite the state company BNETD to restore comrade Pulchérie Edith Gbalet to her rights because we believe that this radiation is cynical, illegal and therefore null and of no effect.
2 The CICC-AD invites the Ivorian democrats to redouble their efforts and determination because all dictatorships, whatever they do, cannot impose themselves eternally against the popular will of citizens determined to wrest their freedom and sovereignty.
Victory is certain if the valiant people thus continue to defend constitutional legality, which is non-negotiable self-defense.
3 The CICC-AD invites all African and international institutions, as well as all pan-African organizations, African and international civil society and struggling peoples, to support the Ivorian people in their quest for democracy, peace, reconciliation and strict respect for the democratic game according to the constitution.
4 The CICC-AD now considers the Ivorian regime in power as the main source of destabilization and insecurity to be put out of harm's way in order to meet the minimum conditions for free, transparent and inclusive elections for the harmonious development of this country that has suffered so much from the policy of Catching up with division and permanent frustration since April 2011.
The active solidarity of the African peoples will advance our struggle for unity, sovereignty and integral African development.
Together, let's kill COVID19 for the definitive liberation of our continent of Africa and of the human race.
Done in Africa on September 25, 2020
Toure Moussa Zeguen
President of the International Executive Secretariat CICC DA
Email mspdinfos@gmail.com
WhatsApp 0022961476491